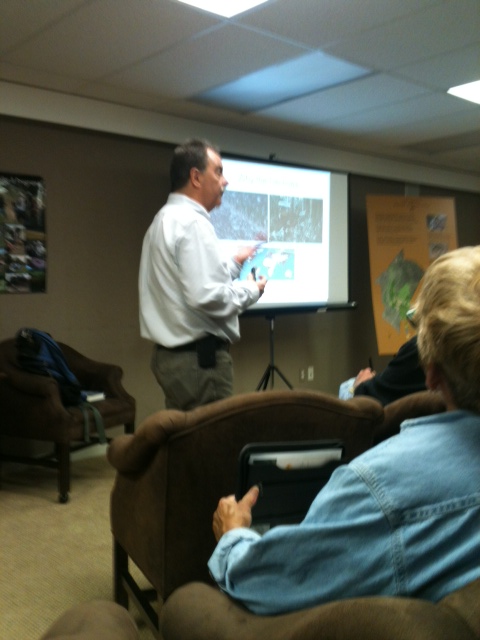 January 15, 2014: Tony Bomkamp gave an in depth look at the world of Migratory Birds beginning with a passage from Tony's favorite birding book, an exquisitely written nature book Living on the Wind. Tony became emotional as he read to the crowd the amazing statistics of one tiny bird, the Blackpoll Warbler.
"The Blackpoll Warbler makes an overwater trip of about 2,000 miles – a passage with no rest, no refueling, no water, during which each will have flapped its wings nearly 3 million times. If a Blackpoll Warbler were burning gasoline instead of its reserves of body fat, it could boast of getting 720,000 miles to the gallon."
Throughout the evening Tony detailed many other awe-inspiring migrations using migration maps from Cornell's website, All About Birds. Some of the most astounding migrations being the Sooty Shearwater, which has recently become the new record holder for the longest migration and the Artic Tern, the previous record holder.
Participants learned that birds migrate out of necessity for food and for mating. Certain birds remain in the same habitat year round without the need to migrate and some species will partially migrate, meaning some stay and some go. It's all about resource availability.
Although scientists are still attempting to completely understand bird migrations, Tony explained some of the cues birds use to migrate including geographic cues, the night sky, the sun, the moon and even magnetite within their brains that aid their trek in aligning with the earth's magnetic poles.  Participants learned what birds do before, during and after migration to endure and survive their journey.
The evening concluded with a question and answer session in which participants discussed proper bird feeding practices in your backyard, new threats to migratory birds such as cell phone towers, and what we can do to decrease these threats and increase successful migrations for these amazing creatures. Something as simple as buying shade-grown coffee can have a positive effect on the bird community. As we retain habitats for migrating birds, we help these animals to prevail through their epic journeys year after year.