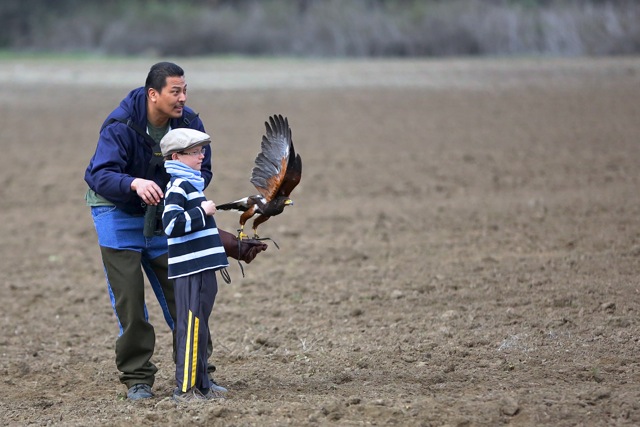 Falconry Lecture and Demonstration
February 5, 2014 and February 9, 2014: Last week Master Falconer, Adam Chavez, introduced us to the thrilling world of falconry starting with The ABC's of Falconry, an informative lecture including two live birds. Adam shared information about the process of becoming a falconer, the global history of falconry and current falconry topics such as abatement and the new 2014 Falconry Regulations.
On Sunday, the excitement continued as participants enjoyed a live Falconry Demonstration by Master Falconers, Adam Chavez and Sammy Holloway and Apprentice Falconer, Alex Williams. Participants watched as the precisely trained birds soared over their heads, chasing lures in hopes of being rewarded with bits of quail meat. The event concluded with Boris, a Harris Hawk, flying from person to person, landing on the gloves of five wide-eyed kids. This was an event to remember, especially for those kids, one of which dreams of becoming a falconer someday.