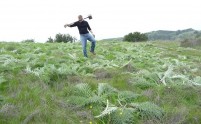 Within The Reserve the following habitats are termed "Conserved Vegetation Communities" and are actively managed and monitored according to the Habitat Reserve Management and Monitoring Program:
Coastal Sage Scrub
Chaparral
Grassland
Riparian
Freshwater Marsh
Alkali Meadow
Open Water
Streamcourses
Woodland & Forest
In order to protect these vegetation communities we carry out certain management action such as invasive species control to ensure that non-native invasive species do not degrade the value of these communities. Currently our focus is removal of artichoke in The Reserve and removal of giant reed in San Juan Creek, a Reserve riparian resource. The process for giant reed removal is illustrated in the following pictures.
In addition to conducting stewardship which maintain or enhance habitat value, we also conduct stewardship activities to ensure the safety of our visiting patrons. These activities include making sure that trails are clear of vegetation, constructing bridges over ravines and waterways, installing signs and erecting fencing.