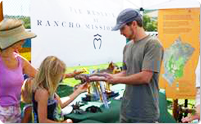 We seek to inform the general public about The Reserve through participation in community events such as local fairs and fiestas, county parks, green days and similar conservation themed events. The Reserve's Community Outreach can range from Bugs and Butterflies at Riley Park to Earth Day at Panhe in San Clemente, Ocean Festivals to city celebrations – just to name a few.
We also conduct programs for groups such as Boy and Girl Scouts, conservation and civic organizations. We have taken our show on the road and given talks with hands-on activities to local libraries, Boys and Girls Clubs, and school science nights.
Community outreach is an important component in the Reserve's Mission. It is a way to get the word out and raise environmental awareness and understanding by informing and educating community members. The public also enjoys meeting our animal ambassador Rosy, the Rosy Boa Snake.